Orchestra / Ensemble / Symphonic Band
In the circle... for Orchestra (2017) / 10'00"
Instrumentation detail: 3,3,3,3/4,3,3,1/timp.-3perc.-hp.-cel.-16,14,12,10,8 = 3 Flutes (3=Piccolo), 3 Oboes (3=English Horn), 3 Clarinets in B-flat (3=Bass Clarinet), 3 Bassoons (3=Contrabassoon), 4 Horns, 3 Trumpets in C, 3 Trombones, Tuba, Timpani (Cymbal, Egg Shaker), 3 Percussionists (Bass Drum, Suspended Cymbal, Harmonic Pipe in C, Snare Drum, Tam-Tam, 4 Tom-Toms, Slap Stick, Harmonic Pipe in G, Sand Paper, Marimba, Swiss Cowbell, Log Drum, Sleigh Bell, Ratchet, Buzzing Bow), Harp (Bird Call), Celesta (Bird Call), 16 Violin I, 14 Violin II, 12 Viola, 10 Violoncello, 8 Contrabass
Prize: "Île de créations 2018" composition competition by the Orchestre National d'Île-de-France (2018)
Publication: Editions Durand-Eschig-Salabert (in preparation)
Premiere: 3rd February 2018 - Le POC d'Alfortville (Alfortville, France) / Orchestre national d'Île-de-France and Tito Ceccherini (Cond.)
History of performance:
7th April 2018 - Le POC d'Alfortville (Alfortville, France) / Orchestre national d'Île-de-France and Julien Masmondet (Cond.)
10th April 2018 - Grande salle Pierre Boulez, Paris Philharmonie (Paris) / Orchestre national d'Île-de-France and Julien Masmondet (Cond.)
History of broadcast:
7th-11th May 2018 - Radio France, France Musique / Création mondiale - "In the circle..." de Tetsuya Yamamoto pour orchestre (1 movement par day)
12th May 2018 - Radio France, France Musique / Création mondiale : l'intégrale - "In the circle..." de Tetsuya Yamamoto (Diffusion intégrale et portrait du compositeur)
Scenes of Ithaca for Soprano and Ensemble (2017) / 8'00"
Instrumentation detail: Soprano, Flute, Clarinet in B-flat (doubling Bass Clarinet), Violin, Viola, Violoncello and Piano
Selection: Finalist at "The 38th International Valentino Bucchi Prize Composition Contest" (2017)
Premiere: 18th May 2017 - Sala Casella (Rome) / Imago Sonora Ensemble, Chiara Osella (Sop.) and Andrea Ceraso (Cond.)
History of broadcast:
12th May 2018 - Radio France, France Musique / Création mondiale : l'intégrale - "In the circle..." de Tetsuya Yamamoto (Diffusion intégrale et portrait du compositeur)
Temps de chèvre for 5 musicians (2015) / 9'00"
Instrumentation detail: Flute, Clarinet in B-flat, Accordion, Violoncello and Percussion (4 Temple Blocks, 2 Tom-toms, Snare Drum, Suspended Cymbal, Tam-tam)
Premiere: 3 November 2015 - PIC, Pôle Instrumental Contemporain (Marseille, France) / Ensemble Télémaque and Raoul Lay (Cond.)
History of performance:
5th Fabruary 2016 - Shibuya Cultural Center Owada, Densho Hall (Tokyo) / Tokyo Ensemnable Factory and Kanako Abe (Cond.)
History of broadcast:
12th May 2018 - Radio France, France Musique / Création mondiale : l'intégrale - "In the circle..." de Tetsuya Yamamoto (Diffusion intégrale et portrait du compositeur)
Kettenfaser für Kammerorchester von 12 Spieler (2014) / 7'00"
Instrumentation detail: Flute, Oboe, Clarinet in B-flat, Bassoon, Trumpet, Percussion (Finger cymbals, 5 octave Marimba, 4 Rototoms, Wood block, Cabasa, Snare drum, Siren whistle, Plastic baseball bat or Badminton racket), Piano, 2 Violins, Viola, Violoncello, Contrabass
Premiere: 16th March 2014 - Small Hall of Kunitachi College of Music (Tachikawa, Tokyo) / Kunitachi College of Music I Orchestra and Yasuaki Itakura (Cond.)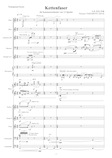 Light in Azumaya for Symphonic Band (2009) / 7'30"
Instrumentation detail: Piccolo, 2 Flutes, Oboe, Bassoon, Clarinet in E-flat, 3 Clarinets in B-flat, Bass Clarinet, Soprano Saxophone, 2 Alto Saxophones, Tenor Saxophone, Baritone Saxophone, 3 Trumpets, 4 Horns, 3 Trombones, Bass Trombone, Euphonium, Tuba, String Bass, 7 Percussions (4 Timpani, Mokusho or Claves, Sleigh Bell, Cluster Chime, Bass Drum, Crash Cymbals, Vibraphone, Bass Drum, Glockenspiel, Tam-Tam, Snare Drum, Marimba, Whip or Slap stick, Tambourine, Triangle, Tubular Bells, Suspended Cymbal)
Commission: Suzaka Symphonic Band
Premiere: 14 June 2009 - Grand Hall of Mécénat Hall (Suzaka, Nagano) / Suzaka Symphonic Band and Norikazu Aoki (Cond.)
History of performance:
9th December 2010 - Opera Studio of Kunitachi College of Music (Tachikawa, Tokyo) / Students of Kunitachi College of Music and Tetsuya Yamamoto (Cond.)
15th-16th September 2012 - Tamura Memorial Hall of Makuhari Junior and Senior High School (Chiba) / Wind Band of Makuhari Junior and Senior High School and Noritaka Kondo (Cond.)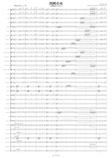 Vox humana for Hichiriki and Sho (2018) / 11'30"
Instrumentation detail: Hichiriki, Sho
Commission: Yukari Misawa
Premiere: Undetermined
Galop for Violin and Piano (2018) / 3'00"
Instrumentation detail: Violin, Piano
Commission: Duo Hsin-ka
Premiere: Undetermined
Bacronymist for Gemini (and its satellite) for Trumpet, Baritone and Piano (with performer) (2018) / 1'00"
Instrumentation detail: Trumpet, Baritone (Empty bottle of detergent), Piano (for Performer parts: Rope-jumping, Umbrella, Chewing gum, Ring-throwing, Playing cards, Camera or Smartphone)
Commission: Gemini Trio
Premiere: 3rd June 2018 - Ryogoku Monten Hall (Tokyo) / Gemini Trio = Kiyonori Sokabe (Tp.), Takashi Matsudaira (Bar.), Toshio Nakagawa (Pf.), Takashi Niigaki (Performance)
Étude d'alterné for 2 Clarinets and Piano (2018) / 4'30"
Instrumentation detail: Saxophone Quartet (Soprano, Alto, Tenor and Baritone)
Commission: Tomomi Inoue
Premiere: 4th May 2018 - Salle Varèse, CNSMD Lyon (Lyon, France) / Tomomi Inoue, Théo Fuhrer (Cl.), Chiko Miyagawa (Pf.), Tetsuya Yamamoto (Cond.)
Point Counterpoint Counter for Saxophone Quartet (2017) / 4'50"
Instrumentation detail: Saxophone Quartet (Soprano, Alto, Tenor and Baritone)
Commission: Heita Yui
Premiere: 3rd December 2017 - Daimon Hall, Chikufudo (Nagano) / Heita Yui (S.Sax.), Masafumi Uehara (A.Sax.), Sakiko Matsuzawa (T.Sax.) and Ryo Kato (Br.Sax.)
Voix de l'orgue for Alto Saxophone and Piano (2016) / 6'30"
Instrumentation detail: Alto Saxophone and Piano
Commission: Naomi Shirai
Premiere: 24th December 2016 - Rexxam Hall, Small Hall (Takamatsu, Kagawa) / Naomi Shirai (A.Sax.) and Sae Lee (Pf.)
History of performance:
23rd January 2017 - Conservatoire de Marseille, Salle Tomasi (Marseille, France) / Joël Versavaud (A.Sax.) and Qidi Sun (Pf.)
5th February 2017 - Parthenon Tama, Small Hall (Tama, Tokyo) / Naomi Shirai (A.Sax.) and Yuko Hironaka (Pf.)
31st July 2017 - Prague Conservatory Concert Hall (Prague) / Štěpánka Šediváková (A.Sax.), Ludmila Jurankova (Pf.)
4th May 2018 - Salle Varèse, CNSMD Lyon (Lyon, France) / Yuko Sayama (A.Sax.), Chiko Miyagawa

Gimmick Bach 2 for Saxophone Quartet (2016) / 5'00"
Instrumentation detail: Saxophone Quartet (Soprano, Alto, Tenor and Baritone)
Commission: Green Ray Saxophone Quartet
Prize: Honorable Mention at "The 13th Chengdu-China Sun River Prize Students New Composition Competition" (2017)
Premiere: 11th November 2016 - Lutheran Ichigaya Hall (Tokyo) / Green Ray Saxophone Quartet = Asumi Inomata (S.Sax.), Shiori Uchida (A.Sax.), Yuki Kawasaki (T.Sax.) and Aki Ikehara (Br.Sax.)
Purchase (Score & Parts) ... 2,000 JPY
7 Personas en centre-ville for Saxophone Quartet (2016) / 8'00" (minimum)
Instrumentation detail: Saxophone Quartet (Soprano, Alto, Tenor and Baritone)
Commission: Green Ray Saxophone Quartet
Premiere: 11th November 2016 - Lutheran Ichigaya Hall (Tokyo) / Green Ray Saxophone Quartet = Asumi Inomata (S.Sax.), Shiori Uchida (A.Sax.), Yuki Kawasaki (T.Sax.) and Aki Ikehara (Br.Sax.)
Célesta for String Trio (2016) / 6'30"
Instrumentation detail: Striong Trio (Violin, Viola and Violoncello)
Prize: 2nd Prize at "The 4th International Edison Denisov Young Composers Competition" (2016)
Premiere: 27th November 2016 - Tomsk, Russia History of performance:
4th May 2018 - Salle Varèse, CNSMD Lyon (Lyon, France) / Shan-Hsin Chang (Vn.), Simon Pierron-Sochacki (Va.), Lucas Henry (Vc.), Tetsuya Yamamoto (Cond.)

5 Encores for Saxophone Quartet (2012-16/17) / 17'30"
Instrumentation detail: Saxophone Quartet (Sop, Alt, Ten, Bar)
Commission: Green Ray Saxophone Quartet
Publication: Tokyo Music Production
(This publisher's website is Japanese only : If you were want to purchase it, please contact me directly.)
Premiere: Performed by Green Ray Saxophone Quartet = Asumi Inomata (S.Sax.), Shiori Uchida (A.Sax.), Yuki Kawasaki (T.Sax.) and Aki Ikehara (Br.Sax.)
Green Ballade (3'30") / 30th March 2012 - Musical Instruments Shop DAC, Space Do (Tokyo)
Green Serenade (3'30") / 13th March 2013 - Oizumi-gakuen Yumeria Hall (Tokyo)
Green Sonatine (4'30") / 15th November 2014 - Keyaki Hall (Tokyo)
Green Lines (4'00") / Not performed yet
Green Ragtime (2'30") / 11th November 2016 - Lutheran Ichigaya Hall (Tokyo)
History of performance:
(1) 14th October 2012 - Gojuban 3F (Tachikawa, Tokyo) / Green Ray Saxophone Quartet.
(1) 25th October 2015 - Meguro Persimmon Hall, Small Hall (Tokyo) / Green Ray Saxophone Quartet
(1,2) 11th November 2016 - Lutheran Ichigaya Hall (Tokyo) / Green Ray Saxophone Quartet
(1,2,5) 17th February 2017 - Artist Salon "Dolce" (Tokyo) / Green Ray Saxophone Quartet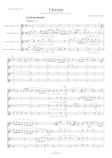 Published Score (Score & Parts) ... 6,480 JPY (Japanese only : Please contact me directly if you want it.)
Ice and Charcoal for 2 Bass Clarinets (2015) / 2'00"
Instrumentation detail: 2 Bass Clarinets
Selection: Basklarinet Festijn 2016 Miniatures Call for Scores (2015)
Premiere: 17th January 2016 - Muziekhuis (Utrecht, Netherland) / Fie Schouten and Ken Kunita (B.Cl.)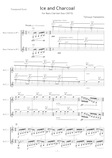 Defect for Zephyros (Trumpet in C with slide) and Guitar (2015) / 7'30"
Commission: Kiyonori Sokabe and Gaku Yamada
Premiere: 28th February 2015 - Ryogoku Monten Hall (Tokyo) / Kiyonori Sokabe (Zeph.) and Gaku Yamada (Gt.)
History of performance:
11th May 2018 - GG Salon (Tokyo) / Kiyonori Sokabe (Zeph.) and Gaku Yamada (Gt.)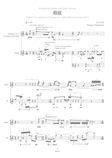 Hyaku-jo for Clarinet Quartet (2013) / 4'30"
Instrumentation detail: 3 Clarinets in B-flat and Bass Clarinet
Commission: Yuki Kusano
Premiere: 15th March 2015 - Rental Space SF (Tokyo) / Ahijo Quartet = Ai Matsushita, Anna Konaka, Hinako Sato (Cl.) and Joji Watanabe (B.Cl.)

Purchase (Score & Parts) ... 2,000 JPY
Horizontal Study for Clarinet Quartet (2013) / 4'50"
Instrumentation detail: 3 Clarinets in B-flat and Bass Clarinet
Premiere (Recording only): 6th October 2013 - Sound Studio Noah in Komazawa (Tokyo) / Carillon Clarinet Ensemble = Kenta Nakajima, Saki Masuda, Nozomi Oka (Cl.) and Hiroki Domen (B.Cl.)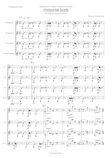 Arabesque avec la dualité for Slide Whistle and String Quartet (2013) / 7'30"
Instrumentation detail: Slide Whistle, 2 Violins, Viola and Violoncello
Prize: Honorable mention at "The 7th JFC Composers Award" (2013)
Premiere: 6th December 2013 - Toppan Hall (Tokyo) / Tetsuya Yamamoto (S.W.) and Lorie String Quartet = Takeru Chikenji, Kei Sakoda (Vn.), Kaito Ikeda (Va.) and Yui Hosoi (Vc.)
History of broadcast:
12th May 2018 - Radio France, France Musique / Création mondiale : l'intégrale - "In the circle..." de Tetsuya Yamamoto (Diffusion intégrale et portrait du compositeur)
Capriccio for Slide Whistle Duo (2013) / 50"
Instrumentation detail: 2 Slide Whistles
Premiere: 15th June 2013 - Small Hall of Hokuto Cultural Hall (Nagano) / Takahiro Mitsui and Tetsuya Yamamoto (S.W.)
History of performance:
4th November 2013 - Kunitachi College of Music, Building 1, Room 206 (Tachikawa, Tokyo) / Tetsuya Yamamoto and Bunkichi Kamiyama (S.W.)
18th June 2015 - Association Culturelle Franco-Japonaise de Tenri, Bibliotéque (Paris) / Tetsuya Yamamoto and Takahiro Sasaki (S.W.)
1st June 2018 - AAA Paris (Paris) / Natsuki Oba and Tetsuya Yamamoto (S.W.)

Shochikubai for Mandolin Quintet (2013) / 10'30"
Instrumentation detail: 2 Mandolins, Mandola, Mandoloncello and Guitar
Commission: Mandolin Quintet "les Cinq"
Premiere: 17th March 2013 - Tokyo Opera City, Oumi Gakudo (Tokyo) / Mandolin Quintet "les Cinq" = Koji Nagae, Masato Ando (Mn.), Kana Shimada (Ma.), Keisuke Tate (Mc.) and Hiroyuki Kameda (Gt.)

COCOON for Flute Quartet (2012) / 5'00"
Instrumentation detail: 4 Grand Flutes
Publication: fostermusic Inc.
Premiere: 14th October 2012 - Ekoda Buddy (Tokyo) / FLuits Vegetable = Jiro Yoshioka, Sayaka Kaneno, Noriko Nishida and Norihisa Shiraishi (Fl.)
History of performance:
11th October 2013 - Muramatsu Hall (Tokyo) / Flute quartet Caprice = Yuko Urakabe, Nasa Yoshino, Yurie Nagase and Yukie Shirakashi (Fl.)
3rd November 2013 - Kunitachi College of Music, SPC-B (Tachikawa, Tokyo) / Trebbiano = Yuki Shimizu, Tamami Hosaka, Midori Hayakawa and Sayaka Yoshimoto (Fl.)

Published Score (Score & Parts) ... 3,024 JPY / Sample
Woven Seasons for Prepared Piano 4 Hands (or Piano 4 Hands) (2012) / 3'30"
Premiere: 26th August 2012 - Suntory Hall, Blue Rose (Tokyo) / Satoko Inoue and Tetsuya Yamamoto (Prep.Pf.)
History of performance:
10th-12th August 2015 - Ryogoku Monten Hall (Tokyo) / Satoko Inoue and Akiko Fujita (Prep.Pf.)
13th November 2015 - Köln Japanisches Kulturinstitut (Köln, Germany) / Satoko Inoue and Tetsuya Yamamoto (Prep.Pf.)
Crescent Moon in the Azure Twilight for Alto Flute, Violin and Prepared Piano (2012) / 2'30"
Commission: Hibari Project (mmm...)
Premiere (Recording): 20th August 2012 (Release: 11th September 2012) - Gen-on-sha, Studio 246 (Tokyo) / mmm... = Reiko Manabe (A.Fl.), Shungo Mise (Vn.) and Kaori Ohsuga (Prep.Pf.)
History of performance:
21st October 2012 (Live) - Koen-Dori Classics (Tokyo) / mmm...
History of broadcast:
12th May 2018 - Radio France, France Musique / Création mondiale : l'intégrale - "In the circle..." de Tetsuya Yamamoto (Diffusion intégrale et portrait du compositeur)
Sound (extract)
Sullen Face for Flute, Violin and Piano (2012) / 7'30"
Commission: Quartier Musicaux
Prize: Finalist at "The 9th Thailand International Composers Competition" (2013)
Premiere: 21st June, 2012 - Small Hall, Suginami Kokaido (Tokyo) / Maiko Kimura (Fl.), Chihiro Inda (Vn.) and Tomoko Honda (Pf.)
History of performance:
13th July 2013 - Mahidol University, Auditorium (Bangkok, Thailand) / Enclave Ensemble and James Ogburn (Cond.)
History of broadcast:
4th April 2018 - Radio France, France Musique / Le concert du soir "Salvatore Sciarrino (Oeuvres des années 1970 et 1980)"
Pop-up fragments for Violin and Piano (2012/2013) / 8'00"
Premiere (First version): 18th May 2012 - Suginami Kokaido, Small Hall (Tokyo) / ROSCO = Fumiko Kai (Vn.) and Kaori Ohsuga (Pf.)
Premiere (Revised version): 13th January 2013 - Tama Art University, Art museum 1F (Tokyo) / ROSCO = Fumiko Kai (Vn.) and Kaori Ohsuga (Pf.)
History of performance:
19th January 2013 - Nakano Civic Hall (Nakano, Nagano) / ROSCO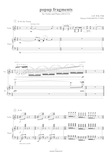 Crossroads / Y Intersection for Piccolo and Violin (2012/16) / 8'00"
Premiere: 12th January 2012 - Suginami Kokaido Small Hall (Tokyo) / Jun-ichiro Taku (Picc.) and Kei Sakoda (Vn.)
History of performance:
19th February 2017 - Scandinavia House, Victor Borge Hall (New York) / Elizabeth Brown (Picc.) and Eriko Sato (Vn.)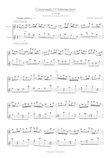 Purchase (Score & Parts) ... 1,600 JPY
Kairos for Trombone and String Trio (2011/16-17) / 12'00"
Instrumentation detail: Trombone, Violin, Viola and Violincello
Premiere: 12th January 2012 - Suginami Koukaido, Small Hall (Tokyo) / Kousei Murata (Trb.), Takeru Chikenji (Vn.), Kaito Ikeda (Va.) and Yui Hosoi (Vc.)
History of performance:
19th January 2018 - Salle Varèse, CNSMD Lyon (Lyon, France) / Tanguy Boisseranc (Trb.), François Marat (Vn.), Élise Vaschalde (Va,), Loris Sikora (Vc.) and Fabrice Pierre (Cond.)
4th May 2018 - Salle Varèse, CNSMD Lyon (Lyon, France) / Luiz Pedro Bernadet (Bsn.), Shan-Hsin Chang (Vn.), Simon Pierron-Sochacki (Va.), Lucas Henry (Vc.), Fabrice Pierre (Cond.) (Version for Bassoon and String Trio)

10.5 Pieces for Violin and Viola (2011) / 7'00" (Minimum)
Premiere: 30th October 2011 - Kunitachi College of Music, New Building 1, Chorus Studio (Tachikawa, Tokyo) / Takeru Chikenji (Vn.) and Kei Sakoda (Va.)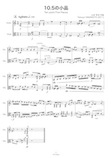 cross stitch for Saxophone Sextet (2011) / 12'00"
Instrumentation detail: Soprano Saxophone, 2 Alto Saxophones, 2 Tenor Saxophones and Baritone Saxophone
Commission: Saxophone Department of Kunitachi College of Music
Selection: "The 35th Annual Bowling Green New Music Festival" Call for Scores (2014)
Premiere: 30th September 2011 - Fuchu no Mori Arts Theater, Wien Hall (Fuchu, Tokyo) / Asumi Inomata (S.Sax.), Yuki Kawasaki, Emi Okada (A.Sax.), Miki Takahashi, Koki Onbe (T.Sax.) and Keiko Akiyama (Br.Sax.)
History of performance:
16th October 2014 - Bowling Green State University, Kobacker Hall (Bowling Green, USA) / Students of Bowling Green State University and Evan Meccarello (Cond.)

Slide Whistle Trio for 3 Slide Whistles (2011) / 4'30"
Premiere: 25th September 2011 - Wako Cultural Public Hall "Sun Azalea", Small Hall (Wako, Saitama) / Goki Hosokibara, Takafumi Maki and Tatsuya Ono (S.W.)
History of performance:
30th October 2011 - Kunitachi College of Music, New Building 1, Chorus Studio (Tachikawa, Tokyo) / Soichiro Yamauchi, Kazunobu Miura and Kentaro Yatsuzuka (S.W.)
29th February 2012 - Mon-naka Tenjo Hall (Tokyo) / Jemini Trio = Kiyonori Sokabe, Takashi Matsudaira and Toshio Nakagawa (S.W.)
3rd March 2012 - Yamamoto Studio (Musashimurayama, Tokyo) / Goki Hosokibara, Takafumi Maki and Tetsuya Yamamoto (S.W.)
27th May 2012 - Hokuto Cultural Hall, Medium Hall (Nagano) / Heita Yui, Taichi Kawai and Takahiro Mitsui (S.W.)
12th January 2013 - Waka-no-ura Art Cube, Cube A (Wakayama) / Shuko Sonobe, Yumiko Okui and Fumika Matsuyama (S.W.)
13th January 2013 (Recording only) - Daito City Culture Hall Thirty Hall, Small Hall (Daito, Osaka) / Tetsuya Yamamoto, Takafumi Maki and Tatsuya Ono (S.W.)
23rd June 2013 - Makuhari Junior and Senior High School, Tamura Memorial Hall (Chiba) / Noritaka Kondo and his friends (S.W.)
15th December 2013 - Senzoku Gakuen College of Music, Silver Mountain 1F (Kawasaki, Kanagawa) / Jemini Trio
27th February 2014 - Seoul Citizens Hall, B2F Basrak Hall (Seoul) / Ensemble zGzz = Eunkyung Park, Jihoi Lee and Jihyun Lee (S.W.)
3rd April 2014 - Amuser Kashiwa, Crystal hall (Kashiwa, Chiba) / Members of the Music Club of Higashi Katsushika High School (S.W.) and Takuma Ito (Cond.)
13th July 2014 (Trombone version) - Senzoku Gakuen College of Music, Silver Mountain (Kawasaki, Kanagawa) / Members of the seminer by prof. Kiyonori Sokabe of Senzoku Gakuen College of Music
18th April 2015 - Senzoku Gakuen College of Music, Silver Mountain 1F (Kawasaki, Kanagawa) / Yuto Kanaya and his friends (S.W.)
21st February 2017 - Senzoku Gakuen College of Music, Silver Mountain 2F (Kawasaki, Kanagawa) / Hiroki Abiko, Tomoko Sakai and Haruna Tobita (S.W.)
5th July 2017 - Petite Salle, Maison de la culture du Japon (Paris) / Ensemble Musica Universalis (S.W.)
12th January 2018 - Conservatoire Frédéric Chopin du 15e à Paris (Paris) / Ensemble Musica Universalis (S.W.)
1st June 2018 - AAA Paris (Paris) / Natsuki Oba, Satomi Mizuno and Tetsuya Yamamoto (S.W.)

Purchase (Score & Parts) ... 1,200 JPY / Sample
Gimmick Bach for String Quartet (2010/2011) / 9'00"
Instrumentation detail: 2 Violins, Viola and Violoncello
Premiere (Complete version): 25th March 2011 - Toshima Civic Center East Stage Ikebukuro (Tokyo) / Lorie String Quartet = Takeru Chikenji, Satoru Sakurada (Vn.), Kei Sakoda (Va.) and Yui Hosoi (Vc.)
History of performance:
24th September 2011 - Kunitachi College of Music, New Building 1, Orchestra Studio (Tachikawa, Tokyo) / TOYOTAKArutetto = Yasutaka Hemmi, Yoshu Kamei (Vn.), Takahiro Yasuda (Va.) and Tomoki Tai (Vc.)
2nd October 2013 - Suginami Koukaidou, Small Hall (Tokyo) / Lorie String Quartet = Takeru Chikenji, Kei Sakoda (Vn.), Kaito Ikeda (Va.) and Yui Hosoi (Vc.)
History of broadcast:
12th May 2018 - Radio France, France Musique / Création mondiale : l'intégrale - "In the circle..." de Tetsuya Yamamoto (Diffusion intégrale et portrait du compositeur)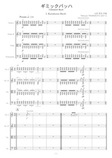 Universal Study for Clarinet Sextet (2010) / 4'40"
Instrumentation detail: Clarinet in E-flat, 4 Clarinets in B-flat and Bass Clarinet
Prize: Jury's prize at "The 12th TIAA Japanese Composers Competition" (2012)
Premiere: 5th September 2010 - Wako Cultural Public Hall "Sun Azalea", Small Hall (Wako, Saitama) / Yuki Kusano (Cl.E-flat), Sakura Torigata, Kana Shimizu, Kenta Esaki, Saori Kurimoto (Cl.B-flat) and Hiroki Domen (B.Cl.)
History of performance:
30th October 2011 - Kunitachi College of Music, New Building 1, Chorus Studio (Tachikawa, Tokyo) / Yuki Kusano (Cl.E-flat), Sakura Torigata, Kana Shimizu, Kenta Esaki, Saori Kurimoto (Cl.B-flat) and Hiroki Domen (B.Cl.)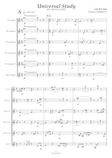 Logical Fallacy for Double Bass and Harp (2010) / 7'00"
Prize: Prize Winner at "The 27th The JSCM Composers Award" (2010), Invitation to the "Festival 5 Giornate" (2011)
Premiere: 4th October 2010 - Tokyo Bunka Kaikan, Small Hall (Tokyo) / Keizo Mizoiri (Cb.) and Shino Kataoka (Hp.)
History of performance:
22nd March 2011 - Teatro Dal Verme (Milan, Italy) / Ensemble NEW MADE = Luigi Borgogno (Cb.) and Paola Perrucci (Hp.)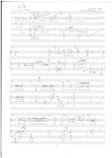 INTER-KINESIS for Violin and Piano (2010) / 12'00"
Premiere: 13th March 2010 - Suginami Koukaido, Small Hall (Tokyo) / ROSCO = Fumiko Kai (Vn.) and Kaori Ohsuga (Pf.)
History of performance:
30th October 2011 - Kunitachi College of Music, New Building 1, Chorus Studio (Tachikawa, Tokyo) / Takeru Chikenji (Vn.), Mihori Asaoka (Pf.)
19th January 2013 - Nakano Civic Hall (Nakano, Nagano) / ROSCO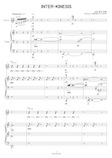 Chara Sax for Saxophone Quartet (2009) / 6'20"
Instrumentation detail: Soprano Saxophone, Alto Saxophone, Tenor Saxophone and Baritone Saxophone
Premiere: 27th November 2009 - Special Stage, in front of Hachioji Station (Hachioji, Tokyo) / Quatuor Tornesols = Minami Fujiwara (S.Sax.), Ryosuke Makino (A.Sax.), Heita Yui (T.Sax.) and Mami Yamashita (Br.Sax.)
History of performance:
6th August 2010 (Recording only) - A room in Showa University of Music (Kawasaki, Kanagawa) / Quatuor Tornesols = Minami Fujiwara (S.Sax.), Mami Yamashita (A.Sax.), Natsumi Kumamoto (T.Sax.) and Heita Yui (Br.Sax.)
13th February 2011 (Recording only) - Studio Hibiki (Tokyo) / Green Ray Saxophone Quartet = Asumi Inomata (S.Sax.), Shiori Uchida (A.Sax.), Yuki Kawasaki (T.Sax.) and Aki Ikehara (Br.Sax.)
30th October 2011 - Kunitachi College of Music, New Building 1, Chorus Studio (Tachikawa, Tokyo) / Green Ray Saxophone Quartet
12th December 2014 - Hachiju-ni Annex 1F (Nagano) / Heita Yui (S.Sax), Masashi Uehara (A.Sax.), Sakiko Matsuzawa (T.Sax.) and Tomomi Nakanishi (Br.Sax.)
11th November 2016 - Lutheran Ichigaya Hall (Tokyo) / Green Ray Saxophone Quartet = Asumi Inomata (S.Sax.), Shiori Uchida (A.Sax.), Yuki Kawasaki (T.Sax.) and Aki Ikehara (Br.Sax.)
Purchase (Score) ... 500 JPY / (Parts) ... 1,000 JPY

Dogenzaka for Viola (2013/2016) / 3'00"
Selection: "Vox Novum, Composer's Voice PUZZLE-GARDE" Call for Scores (2017)
Premiere: 26th February 2017 - George Enescu Philharmony, Studio Hall (Bucharest, Romania) / Cornelia Petroiu (Va.)

alphaphonie pour voix soprano (2015) / 4'00"
Premiere: 25th January 2016 - Conservatoire de Marseille, Salle Tomasi (Marseille, France) / Natalija Stankovic (Sop.)

...sur les couleurs de la vie - Hommage à Edith Piaf for Vibraphone (2014) / 7'00"
Commission: Mizuki Aita
Premiere: 29th January 2015 - e-space hall (Kagoshima) / Mizuki Aita (Vib.)
History of performance:
7th March 2015 - Ryogoku Monten Hall (Tokyo) / Mizuki Aita (Vib.)
8th May 2015 - Ryogoku Monten Hall (Tokyo) / Mizuki Aita (Vib.)

Accordion for Piano (2014) / 7'00"
Commission: Yusuke Sato
Premiere: 6th December 2014 - Suntory Hall, Blue Rose (Tokyo) / Yusuke Sato (Pf.)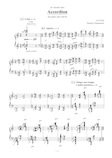 Luminosity for Clarinet and Electronics (2013) / 7'30"
Instrumentation detail: Clarinet in B-flat and Electronics (2ch + click track)
Premiere: 4th August 2013 - Meguro Persimmon Hall, Small Hall (Tokyo) / Yuki Kusano (Cl.) and Kazuki Yamada (Electronics)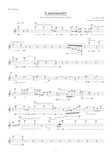 Dogenzaka for Cello (2013) / 3'00"
Premiere: 27th September 2017 - Salle Varèse, CNSMD Lyon (Lyon, France) / Teemu Mastovaara (Vc.)
History of performance:
1st June 2018 - AAA Paris (Paris) / Ching-Min Hsu (Vc.)


Psychedelic Study for Clarinet (2011) / 5'30"
Instrumentation detail: Clarinet in B-flat
Premiere: 30th October, 2011 - Chorus Studio, New Building 1 of Kunitachi College of Music (Tachikawa, Tokyo) / Yuki Kusano (Cl.)
History of performance:
27th May, 2012 - Medium Hall, Hokuto Cultural Hall (Nagano) / Takahiro Mitsui (Cl.)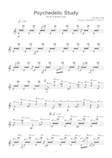 Crime and Drumsticks (Tsumi to Bachi) for Snare Drum (2011) / 7'30"
Commission: Mizuki Aita
Premiere: 14th May 2011 - Ogikubo Church, The United Church of Christ in Japan (Tokyo) / Mizuki Aita (S.D.)
History of performance:
14th July 2011 - Musashino Academia Musicae, Mozart Hall (Tokyo) / Mizuki Aita (S.D.)
30th October 2011 - Kunitachi College of Music, New Building 1, Chorus Studio (Tachikawa, Tokyo) / Itaru Akuhara (S.D.)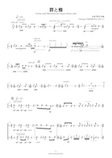 perhpas vairation? for Voice (Baritone) (2011) / 7'30"
Commission: Takashi Matsudaira
Premiere: 18th February 2011 - Koen-Dori Classics (Tokyo) / Takashi Matsudaira (Bar.)
History of performance:
20th December 2012 - Keyaki Hall (Tokyo) / Takashi Matsudaira (Bar.)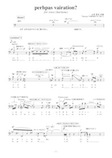 Le premier amour Version for Female Chorus and Piano (2017) / 4'00"
Commission: Yoko Kitazawa
Premiere: 12th February 2018 - Hotel Kokusai 21, Room Fuyou (Nagano) / Female Choir Coro Lunare and Yoko Kitazawa (Cond.)
Le premier amour for Mixed Chorus and Piano (2017) / 4'00"
Commission: Hisako Shimizu
Premiere: 11th August 2017 - Hotel Kokusai 21, Room Chitose (Nagano) / Soyokaze Choir and Yoko Kitazawa (Cond.)
History of performance:
30th October 2017 - Main Hall, Nagano City Arts Center (Nagano) / Soyokaze Choir and Yoko Kitazawa (Cond.)

Music for "New Nonomi Folktails" (Ensemble Version) for Photographic slide, Reading and Ensemble (2012/2013) / 18'00"
Instrumentation detail: Photographic slide, Reading, Flute, Clarinet in B-flat, Violin, Violoncello, Percussion and Piano
Commission: Hokuto Cultural Hall
Co-production with Ken Tajima (Photographic)
Premiere: 15th June 2013 - Hokuto Cultural Hall, Small Hall (Nagano) / Shizue Yanagi (Read.), Tomomi Yamaura (Fl.), Takahiro Mitsui (Cl.), Shuri Miyashita (Vn.), Karen Hara (Vc.), Kyoko Ikeda (Perc.), Mizuho Sato (Pf.) and Tetsuya Yamamoto (Cond.)

Music for "New Nonomi Folktails" for Photographic slide, Reading and Chamber Orchestra (2012) / 18'00"
Instrumentation detail: Photographic slide, Reading, Flute, Oboe, Clarinet in B-flat, Bassoon, Horn, Percussion, Piano, 2 Violins, Viola, Violoncello and Contrabass
Commission: Hokuto Cultural Hall
Co-production with Ken Tajima (Photographic)
Premiere: 22nd December 2012 - Sakae Civic Center, Katakuri Hall (Sakae, Nagano) / Shizue Yanagi (Read.) and Ensemble Nova

Opening Bell No.1 "2012 Winter" for Fixed Media (2012) / 31"
Premiere: 12th January 2012 - Suginami Koukaido, Small Hall (Tokyo) / Kouhei Mikuni (Electronics)
History of performance:
13th March 2012 - Suginami Kokaido, Small Hall (Tokyo) / Takuaki Kikuchi (Electronics)
23rd February 2014 - Elisabeth University of Music, Xavier Hall (Hiroshima) / Noritaka Itoh (Electronics)


3rd and 4th movement (extract) from "Sheherazade" by Nikolai Rimsky-Korsakov for 12 Saxophones (and 5 Percussionists ad lib.) (2014) / 15'00"
Instrumentation detail: 3 Soprano Saxophones, 3 Alto Saxophones, 3 Tenor Saxophones, 2 Baritone Saxophones, Bass Saxophone and Percussion
Commission: Saxophone Department of Kunitachi College of Music
Premiere: 6th October 2014 - Fuchu no Mori Arts Theater, Wien Hall (Fuchu, Tokyo) / Saxophone Students of Kunitachi College of Music

Variation : "Mein junges Leben hat ein End" by Jan Pieterszoon Sweelinck for Clarinet Quartet (2013) / 6'00"
Instrumentation detail: 3 Clarinets in B-flat and Bass Clarinet
Premiere: Not performed yet
Published Score (Score & Parts) ... 2,000 JPY
Shabondama (Soap Bubble) by Shimpei Nakayama for Violin and Piano (2013) / 3'00"
Premiere: 19th January 2013 - Nakano Civic Hall (Nakano, Nagano) / ROSCO = Fumiko Kai (Vn.) and Kaori Ohsuga (Pf.)
History of performance:
20th September 2013 - Koganei Civic Center, Small Hall (Koganei, Tokyo) / ROSCO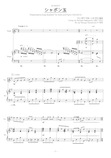 Purchase (Score & Parts) ... 1,000 JPY
Czardas by Vittorio Monti for Flute, Clarinet, Violoncello and Piano (2012) / 4'00"
Commission: Ensemble ao akua
Premiere: 23rd October 2012 - Bar in front of Ebisu Station (Tokyo) / Ensemble ao akua = Yuka Sato (Fl.), Yui Iizuka (Cl.), Mariko Okabayashi (Vc.) and Yuko Hironaka (Pf.)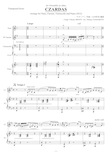 Pictures at an Exposition by Modest Mussorgsky for 7 Players (2011) / 35'00"
Commission: Avviatura Concerto 2011
Premiere: 21st March 2011 - Koshoku Cultural Hall, Small Hall (Chikuma, Nagano) / Taichi Kawai (Cl.), Sakiko Matsuzawa, Heita Yui (Sax.), Kaori Maruyama (Bsn.), Eiko Horiuchi (Hr.), Yurika Futaki (M.Sop.) and Yui Sionoiri (Pf.)
Extract from "The Merry Widow" by Franz Lehar for Flute Orchestra (2010) / 20'00"
Instrumentation detail: Piccolo, 8 Flutes, Alto Flute, Bass Flute, Contrabass Flute and 4 Percussions
Commission: Flute Department of Kunitachi College of Music
Premiere: 16th December 2010 - Lune Kodaira, Medium Hall (Kodaira, Tokyo) / Flute Department of Kunitachi College of Music

Extract from 3rd Act of "Tosca" by Giacomo Puccini for Flute Orchestra (2009) / 12'00"
Instrumentation detail: Piccolo, 6 Flutes, 2 Alto Flutes, 2 Bass Flutes and Contrabass Flute
Commission: Flute Department of Kunitachi College of Music
Premiere: 17th December 2009 - Fuchu no Mori Arts Theater, Wien Hall (Fuchu, Tokyo) / Flute Students of Kunitachi College of Music

"Bolero de Ravel" by Maurice Ravel for 7 musicians (2009) / 17'00"
Instrumentation detail: Flute, 3 Clarinets (E-flat, B-flat and Basset Horn), Saxophone (Alto, Tenor and Baritone), Piano and Percussion (Pianica, Snare Drume, Bongo and Suspended Cymbal)
Commission: Tokyo Barabara Ensemble
Premiere: 12th August 2009 - Hokuto Cultural Hall, Small Hall (Nagano) / Tokyo Barabara Ensemble